Welcome to Louisville RV, the longest running RV dealership in Louisville, KY.
January 2015. We are only renting Trailers for (Temporary Housing) 30 days or more. Give us a call Local Phone # 502-205-1795 or contact us.
We also have a great selection of pre owned units, and we are always adding more! We are making great buy's at the Auction monthly, keep checking our Online Inventory. It's always changing.
We have been in Louisville longer than any other RV dealership and have the experience and knowledge to keep you running. If you have any service that needs to be done, please come and see us.
See our up to Date Complete Inventory or Call Local 502-966-0911
We will PURCHASE your unit for CASH (NOW)
Bring in your unit for an appraisal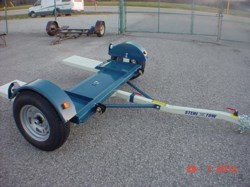 2019 Stehl ST80TD



Stehl Tow Car Dolly Model ST80TD (New) 2019 W/O Brakes We also stock Dolly's with Electric brakes $1695.00... More
$1,699.00
$1,495.00
View Details